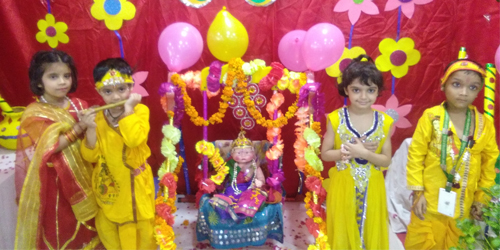 Janmashtami Celebration – 2019
Sweeter than honey, tastier than curd, pleasanter indeed than any happiness and joy is the power of the name of Krishna.
Janmashtami was celebrated with all passion and zeal on 23rd August 2019 in the school premises. Students of Pre-School & Pre-Primary donned the roles of Lord Sri Krishna, Radha, Devki, Nandlal and other various characters and enacted their respective roles perfectly.
Beautiful decorations were put up in the auditorium to make this event more cheerful and colorful. It also made awareness about Indian tradition, custom and culture. It conveyed the strong message "Victory of good over Evil".
Delicious Prasad was served to all the students and staff.