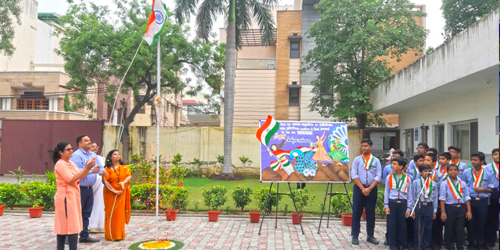 Independence Day – 2019
15th August 1947 was indeed one of the most significant days in the history of India. We do remember those who sacrificed their lives to let us live a comfortable life today. We must not forget that any kind of demographic division on the basis of religion, caste or creed will only hamper our progress.
Keeping this in mind our school, Sant Nirankari Public School, Avtar Enclave celebrated 73rd Independence Day by organizing a short but thoughtful programme. Our Vice Principal, Mrs. Meenakshi Chugh and LMC member Mr. Sandeep Malhotra hoisted the National Flag. It was followed by a cultural programme which included Poem Recitation, Patriotic Songs and Dance performance by the enthusiastic students who were attired in vibrant hues of tricolour. The Vice Principal of the school addressed the gathering. She told the students the importance of our Rights & Duties and stressed on the need for all the citizens to take pledge to do everything we can, to uplift our country and make it the best on the world map.
The programme ended with the famous song by Iqbal 'Saare Jahan se Achcha' and the National Anthem.