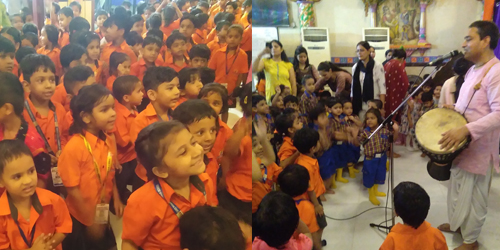 A Visit to Iskcon Temple
On August 22, 2019, on the occasion of Sri Krishna Janmashtami, our students of Pre-School to Class II visited the Iskcon Temple, Punjabi Bagh. The students were accompanied by their teachers and the support staff. They reached the temple by school buses at 10.00 am and spent about 2 hours in the calm and serene environs of the temple. They listened to the story of Lord Krishna. Thereafter, the students were taken into the area where idols are worshipped. They were encouraged to dance on the 'bhajans' and chants of 'Hare Rama Hare Krishna'.
Delicious prasad was also served which was relished by the young devotees.